Getting back to (near) normal…
As golfing started back in April, the successful Ladies Spring Meeting made the most of some good weather in amongst a cold snap. Nevertheless many members are still missing the, all important, social side. Behind the scenes our Social Committee are gearing up for a post pandemic splash. Great news too that the Team Golf is fully subscribed!
It has also been great to have our gregarious bar steward and his staff back and some hot and cold food to help sustain the cold and hungry. More on the future of catering later in the interview section.
In this edition I get to better understand behind the scenes of the Management Committee through an interview with our Chairman. Far from the stereotype; old, crusty and dictatorial, Rob White tells us his views on the running of the club, how things work and what stands us apart from other clubs.
This month there is a new section from our new Pro, helping to bring in his advice from the Pro-Corner.
As Rob White reminds us it is a members owned club and we all have a voice. So please do send me your input or questions for the management so we can have open dialogue on the key matters that mean a lot to all of you. Interviews with club captains are coming soon so I am particularly keen to get your questions  to ask them.
My sponsored 'Golf Handicap Chasedown' for the Captains Charities is in phase 1 after an on course assessment and subsequent swing changes for pitching and chipping from Mark Wood. It's a marathon not a sprint and I hope to make first handicap progress in May. Thanks to all who sponsored with a total of £350 raised so far (mostly on-line). Details on the club noticeboard for those wanting to support me and the charities. Thanks.
I hope everyone completed the recent survey on our competitions calendar. If not you still have a few days. If you need the link again please ask David Maskery. Get your voice heard!
If you have ideas to further improve Fore Info, please email me at newsletter@alresfordgolf.co.uk or look me up on the club directory for a chat.
David Marshall, Editor
---
Our Chair: what makes him rock?
Rob White in the interview hotseat
Although many of you know Robert White is our chairman, few probably know exactly what he does for the club. What follows is the third of my editorial interviews to uncover more beyond the role and the person who tries to fill Mary's big shoes! I uncover his back story and he shares his aspirations for the club as our Chairman.
So Rob, There seems to be more Whites in Alresford than you can shake a stick at! (16 in our directory). Tell us about yourself.
Yes David, a lot of Whites but I am a bit of a dark horse and not related to the more famous local White families of Alresford. I was born in Southampton, moved to Old Alresford in 1977 and joined Alresford as a junior at the age of 15.
You have had an interesting career, tell us more?
Having left school at 16, my first job was in the printing industry with Sir Joseph Caustons in Eastleigh; within 10 years I had started my own printing factory but in Brecon, Wales. I had managed to win extensive backing from the Welsh Development Agency and subsequently became a Non-Executive Director in the region. The most important learning however was how critical hiring and people development was to success. This lead to my career in people management and more recently setting up my own consultancy.
Are you a management consultant then?
Not exactly. I specialise in change management. Organisations bring me in when they need to restructure their workforce  and need to be compliant with employment law. I always try to look at things from all sides to get a win-win-win for the company, staff and exiting employees. Negotiating these situations is critical for everyone's future success. I work a lot for the NHS but also spent 15 months at the biggest law firm in the world restructuring their transactional staff in the UK.
So you must have had to deal with very tough personnel discussions. How has this impacted your approach as a leader?
Absolutely. I learned that you first need to listen, really listen! It's easy to think you know the answer but until I really understand everyone's angle on an issue it is best to keep quiet. I would say I believe in a collaborative approach, especially at this members club where we have a flat hierarchy.  Being Chairman is a bit like being a Non-Executive director, but I do have line management responsibilities at the Club.
Tell us something that is 'unique about you' that none of us already know?
I supported Tottenham Hotspur as a boy (it's been a hard life!) and my eldest brother Colin became groundsman at White Hart Lane in 1977, and I become friends with some of the younger players and followed them in their careers. Then in 1987 I played for a Spurs guest XI at Craven Cottage which was incredible. As the 6ft 3'' centre half I marked Martin Peters playing for the Fulham side; and never got near him! Even in his early forties, he was an incredible player.
Why did you get involved in managing the club?
I sponsored the Pro-Am for a few years in the 1990's and was then asked to join a working party with Brian Young to develop the Club's committee structure and subsequently became our first Chair of Planning and Development. We have a stunning golf club which we collectively own; many previous generations have put heart and soul into making the club what it is today. Having enjoyed the benefit of their labours I feel it's now my turn to ensure that Club develops and can continue to thrive in the foreseeable future.
I am sure many readers think the Chairman's role sounds like a figurehead with a lot of wining and dining and fun golf. Are they right?
Well if it is, I have missed out on all that stuff. All I can remember is one invite to play in a special day at Royal Winchester…and I forgot all about it, leaving Mary in the lurch!
Due to Covid most meetings have been via zoom so not much fun and certainly no dinners out, other than the one I paid for!
What exactly do you see as your role?
Members will be quite surprised to hear that the chair has influence but little power invested in it. Decisions at the Managing Committee that runs the club, are made on a vote basis and all I have is a casting vote, if needed. So far; I never used it and always try to ensure we gain consensus.
My role is to ensure the Club brings all the expertise and ideas to the table and that we discuss the options and decide the best way forward, united as a team, in service of our members. I am also responsible for succession of the team. David Maskery reports to me but he is responsible for execution of the MANCOM decisions. I need to make sure implementation is successful and where not help to make it happen.
What is your biggest challenge in leading the Management Committee (MANCOM) meetings?
MANCOM is by nature made up of strong individuals with strong opinions; they each have expertise in their portfolios of choice. They bring their proposals from their committees (Chairs of PD, Greens, Bar/Catering, Finance and House) and the Vice- Captain has his new perspective each year. This means there are often long discussions to get to the best conclusion. We have to make critical decisions as a team so I believe they should not be rushed and every member of ManCom must be heard.
I hear MANCOM Meetings can get quite heated? Can you tell us some stories?
Not really, given the confidential nature of what we often discuss. However; I can say that not always do we get easily to consensus. For example; we were not all in agreement on the selection of the new Pro, but through a robust but respectful debate we did get there in the end and made a great decision for the Club.
A lot of members are very unhappy with a lack of a restaurant service. So; what can we expect and when?
We have in recent years been using a franchise model very successfully. However due to the pandemic the model does not allow the franchisee to make enough money to survive. For more than a year now we have been unable to hold our usual events and matches. We are considering moving to an in-house chef model as used in many other clubs, but realise that this may require subsidy from the club whilst Covid restrictions have impact. Members do not want to pay higher subs but the club needs to find the extra cash to support catering when we cannot hold the larger events that would help to make it viable. Nevertheless, we aim to deliver a hot and cold meal service for members as soon as indoor restaurant service is allowed after May 17th.
Present Role
Chairman, Alresford Golf Club since 2018

Change Management Consultant

Born
1962
Married
Nikki
Children
Samantha and Libby
Hobbies
Jogging, Golf, Tennis, Cricket
Golf Handicap
14
Members are also asking when we can get back to normal golf, removing tee time bookings. What can you promise?
At present we are abiding by England Golf (EG) pandemic regulations and must have booked tee times only to control play. Tee times were brought in by the club under emergency regulations and had to be adopted by MANCOM. That means as soon as the EG restrictions are lifted we will revert to the old system without requiring pre-booked tee times. I know the topic is widely discussed in the membership and if needed we will respond to a member initiated consultation to discuss future options which would need to go to the AGM and voted upon by members. 
What has been the biggest challenge of your role during the COVID pandemic?
In 2020 the club lost £130,000 income through loss of bar sales, catering, visitor green fees and societies as a result of the pandemic. Despite this we managed to break even. In January 2021 we were then told to shut for another 3 months causing a further £40,000 shortfall. We have had to make tough decisions to furlough staff and cut back on all non-essential costs. We questioned everything we had been doing and renegotiated contracts with many suppliers. It was a stressful time for all and one I hope never to repeat. It did however demonstrate the strength of the Club, the expertise of Ray Panter our Chair of Finance, and the dedication of David and Mel in the office to remove all unnecessary expenditure and model many financial forecasts.
What annoys you most about the club?
That's a tough one! What really bugs me is when things are decided based on age or gender.
Really positive legislation was introduced to remove gender and age discrimination in 2010 for all walks of life; Graham Marshallsay heralded our 'One Club' movement during his year of Captaincy and proposed our first female Club Captain…it only took us 130 years! We are 'One Club'; each of us collectively owns the Club whether we have belonged for 10 years or indeed 10 days, and no matter what age or gender.
Unlike many other clubs, we are so lucky to have so many willing member volunteers and I think they all deserve our respect and gratitude. We have a disappointing core of members who tend to be disgruntled as a hobby. I would like to encourage the 'usual suspects' to find new acceptable ways of communicating and indeed respecting those who have sought election by the Members at the AGM, which of course they have not!
What are you most proud of achieving as Chairman so far?
My role is to steer the Club and the Management Committee to make the right decisions for the benefit of the club and ultimately the members. I see myself as 'The Member in the Room', and ensure that all decisions are in the best interests of the members; it seems obvious but Members' golf and enjoyment of the Club must be our priority. In January 2019, my second month as Chairman, we closed the month with only 486 members, we now have roughly 100 more members and have now closed for new member applications. Therefore; we need less income from visitors, societies and temporary membership schemes. It's a huge success!  But I suppose I am most proud of the selection process for the new Pro. It was so critical to get the right fit to our club following on from Malcolm. We screened 29 applications and CVs over 2-months and after much scrutiny by a ManCom panel we whittled it down to 3 final candidates. The final test was a trial lesson and interviews to make the selection. This extensive process, carried out entirely during the Covid pandemic, was designed to provide a 'level playing field' for all candidates irrespective of age or gender and provided the opportunity for the Club to learn from the contemporary world of golf beyond our Club based focus. Mark Wood commented that it showed how AGC cares about its staff and was a key factor in his accepting the role. We got the right Head Pro, which supports the strength of the recruitment process.
What are your aspirations for the club?
Its all about quality!
Quality of the course, quality of our Clubhouse, quality of the service that we provide. Fortunately; we have the right person in the hot seat as General Manager; David Maskery, and we have the right Course Manager, Simon Justice, both of whom are dedicated to continuous improvement at the Club. Mark and Mandy Wood in the Pro-Shop have invested their family savings in developing our 'front-of-house offering'; they are here for the long-haul.
Clubhouse development will deliver the final piece in the jigsaw and will complement the work going on in all other areas to make Alresford the perfect Members' Club, that we can all be proud of as collective owners.
All officers of the Club can only serve for a maximum of six years, and I have to seek re-election in November after three years as Chairman. So; I hope to serve another term and then aspire to be succeeded by someone who equally has the success of the Club, as a members' club, at heart. I then aspire to be able to keep my nose out…but support and respect their equally unique contribution to the Club.
Quickfire Q and A
Favourite holiday destination
Havana, Cuba
Your biggest golfing achievement?
John Holmes Trophy Winner 2003 (Club Championships Net Winner), and getting down to single figures…for a few weeks!
Pulpo Negro or Shapla ?
Shapla
Favourite drink after a round…
Guinness
BMW or Mercedes?
Mercedes
Opera or Glastonbury?
Opera in Verona!
Song choice? 'California Girls' or 'Girl from Ipanema'?
Girl from Ipanema
Jogging or Driving Range Practice?
Jogging, I got up to 8-miles during the pandemic
Gordon Brown or Rishi Sunak?
Rishi Sunak
Southampton FC or Spurs FC?
Spurs – of course!
At last, the season feels like it is underway!  Huge congratulations to Harriet Riches on winning the Hampshire Girls Spring Meeting at Royal Winchester. A score of 40 points on a chilly, windy day is a great achievement.  We were well represented with Junior Captain Jenny Myers in 6th place.  Well done!   https://hlgjuniors.com/2021/04/26/junior-spring-meeting/
Vice-Captain Simon and I were honoured to act as starters for the Ladies Spring Meeting.  This was a great success, and the organisers are to be congratulated on a super day.  It was great to see the patio full of happy golfers.
It was such a disappointment to have to cancel the Captains Charity Trip, planned for the first week of May.  I am pleased to have been able to re-book the golf for the equivalent week next year and am awaiting confirmation from the hotel.  The 56 members who booked this year still have something to look forward to.  I am still trying to arrange a substitute event for later this year but am getting no response from hotels.  I will keep you posted on progress.
The Mens friendly team got off to a welcome start at Hockley with a hard fought 2-2 draw.  The Mixed friendly fixture list is posted on the Mixed noticeboard in the foyer.  These are good fun fixtures so if you would like to take part, please add your name or contact Marion or Alan Bruce direct.
The knockout season is upon us.  These competitions are a popular part of our golfing calendar and this is peak time for matches (before 50% of us are knocked out!).  Singles matchplay is one of the quickest formats of play so please be aware of other players.  Where possible, arrange your matches at times when the course is quieter.  When you book the tee, contact David or the ProShop to block out the other 2 spaces. If you are playing in a 3 or 4-ball with a 2-ball following, please call them through, even if you have not lost ground on the group ahead.  The full guidance can be found on page 13 of the club diary.
I have interviewed 35 new members and I do consider we have acquired some assets and wish you all a long and happy time as members of this wonderful Golf Club.
As you are probably aware, I am to stay on as your Captain for 2022.  This was not an easy decision! Simon is keen to have a full year as Vice-Captain and we have both spent 5 months deleting events from our calendars.  I am fortunate to have the understanding and support of my wife Pat and am grateful for the many messages of support from you the members.
Happy golfing!
Tip
Although frosty the sun was shining with all the signs of a beautiful day for our Spring Meeting as I walked the dog early on Tuesday Morning. On entering the car park I breathed a sigh of relief as I realised there was no trolley ban. Eighty Six Ladies were welcomed by Tip (Club Captain) on the first tee and Simon (his Vice) on the 10th, two smiling, helpful and enthusiastic Starters who sent all happily on their way.
The day had been carefully thought out and planned with great precision by Jan Harring and Caroline Warne with cards and Handicaps organised by Gill Freemantle. The course, as usual was beautifully presented by Simon Justice and his hard working team and it was thrilling to use the new Ladies first tee.
Two of our Ladies Jennifer Clelland and Lynne Duncan who were sadly unable to play, kindly ran Halfway Houses at the 1st and 10th where we were treated to biscuits and drinks refuelling us for our second nine.
My playing partners Rosie and Barbara, were incredibly patient, playing out of they socks, keeping me calm whist I dealt with a small but significant domestic drama for a couple of holes. They deserved our win carrying me all the way.
After a very friendly and happy round we met on the terrace joining up with Cathy and her team for a drink and sandwich surrounded by other tables filling up with other teams, later dispersing so that others could take their place. Our Club General Manager, David, joined by Melissa and Bar staff, Tracy and Hammy darted amongst us in their usual affable and serene manner serving drinks and sandwiches.
Everyone was in great spirits, smiling and happy spurred on by the lovely weather. Jane Macrae celebrated her Birthday and I could not believe Rita Robinson, who played well, had celebrated her 90th Birthday the week before. Congratulations Rita you are a wonderful example to us all.
Whilst we were all enjoying the sun Lynne Cowser joined Gill Freemantle inside to mark the cards.
Congratulations to all the winning teams and thank you to all for making the day so special and a great start to our official Golfing season.
Two of our Juniors took part in the Hampshire Junior Girls Spring Meeting at Royal Winchester on Sunday 25th April, Harriet Riches the outstanding winner with 40 points and Jenny Myers our Captain of the Juniors coming eighth with 30 points. Congratulations to both we are very proud of you.
Di Peisley
Course Handicap & Playing Handicap
All the questions you've been asking now about the why's and wherefores' of Course Handicap and Playing Handicap were all raised with England Golf by us back in November 2019. By that time, the implementation of the system was a fait accompli.
In summary, the reason for the difference between the course and playing handicap is that statistical evidence shows the handicap index calculation (best 8 from 20) provides equity for singles match play but favours higher handicap players in stroke play events.
The course handicap is used in working out any adjustment to your handicap index. The handicap index calculation uses gross differentials, so the course handicap is used to determine par and net double bogey in working out your adjusted gross score.
The playing handicap (95% of course handicap) is used to calculate your score for the competition,
When you enter your score in the system it is working out and displaying your score for the competition.
All the data is then sent to England Golf who work out your handicap adjustments. The result of that calculation is sent back to the Club's database overnight.
The R&A and USGA who now have full control of the handicapping system worldwide decided that players must put their course handicap on their scorecard (see Interpretation 3.3b (4)/1 of the Rules of Golf).
Sign-in, Scorecards & Score Entry
You must sign-in on the day of the competition before the start of your round. Your Course and Playing Handicaps will be displayed when you sign-in.
Currently scorecards must not be exchanged, so you must record your own score.
The scorecard must have your name and Course Handicap (as displayed by the system at sign-in).
The scorecard must have the name of competition and the date so that it can be distinguished from any other competition that day.
The name of the player in your playing group who will verify your score must be clearly identified either on the physical or electronic scorecard.
You should record your own gross scores for each hole on the scorecard.
If you are verifying another player's score, then those scores should be recorded on your scorecard and the player clearly identified.
After the round, the scores should be verbally agreed between you and verifier and you should sign the card.
You must enter your gross scores for each hole into the system using the PSI or Members App or HowDidiDo before 22:00 on the day of the competition.

You must leave your scorecard in the correct box. The Committee will not go looking for it.

Men's and Mixed competitions  brown wooden box in Entrance Hall.
Ladies' competitions  box in Ladies Changing Room.
Casual Play Scores  green metal box in the Entrance Hall.
A Guide to WHS
The Match Committee is preparing a Guide to WHS which will be made available to all members in May.
Club Championships
For clarification, due to a change in the software we are having to use Reserve lists for both the main and qualifying entry competitions of the Championships. When you try to make a booking, you must select Reserve List and then Join Reserve List.
A reminder that all lower handicaps (men 12.0 and lower, ladies 20.0 and lower) must book by 31st May otherwise they will have to go through qualifying for which they would have to register.
Members Survey
The Members' Survey will remain open till Sunday 9th May. We should be able to let you know the results in next month's Fore Info along with our response and a plan for any resulting actions.
Courage & Barclay Better Ball
This competition on Sunday 9th May is a Better Ball medal competition for a pair in any combination – 2 men, 2 ladies, or man and lady. Sign-in is available now, but as this is a team competition only from the PSI in the Foyer. Score entry must also be done on the PSI. Sign-in and Score Entry for team competitions are not available on the Members' App or HowDidiDo. Please make up your own teams and playing groups. There are no specifically reserved tee-times for the competition. As you are playing against the course, the handicap allowance for each player is 85% of Course Handicap.
Harry May – Two Generations
We intend to proceed with the Harry May – Two Generation on Sunday 13th June as planned. This foursomes Stableford competition is open to both 5 and 7 day members; 5 day members are not expected to pay a green fee. The relationship between the players must be parent, grandparent, step-parent or step-grandparent with child, or grandchild. One of the players must be a current Alresford member. If one of the pair does not have a handicap, then while they are welcome to play, they are not eligible to win the trophy although they are eligible to win a prize. Booking for the competition will open in the second week of May.
George Clelland
Chair of Match and Handicap Committee
The first mixed match this year will be an away match at Petersfield on 23rd May. The full list of matches and dates is on the Mixed notice board at the golf club.
The sign up sheets for the early matches until the end of June are on the notice board. They are:
Petersfield        Away     Sunday 23rd May at 1.30pm
Hockley            Home    Wednesday 2nd June at 2.00pm
Cowdray Park  Away     Monday 14th June at 12.00noon
If you are unable to get to the club to sign up you can ask the office to do it or contact Marion or Alan Bruce and you can be added to the list. The sign up sheets close 3 weeks before a match.
Any club member with a CONGU handicap is welcome to sign up to play. All the matches are played in a friendly manner and everyone is welcome, no matter what their handicap. It is hoped that members who haven't played before will join in and sign up for the opportunity to play mixed golf both at home and on some very enjoyable away courses. Playing partners are drawn as part of team selection.
The match teams will be communicated by posting the team list on the Mixed notice board and an email will be sent to all individuals involved. Team members are requested to play in team colours of white shirts and navy jumpers.
A decision has been made that Five Day members may play in the weekend matches if we are unable to field a team from the Seven Day members. There will be a section on the sheet for Five Day members to sign up. Green fees will not be required.
Specific catering arrangements are unclear at the moment but as we have rescheduled the early matches it is expected that all matches will include a meal. For home matches we expect to continue with a smart/casual dress code for our match meals.
For more information or any queries please contact Marion or Alan Bruce.
Question.
A player finds their ball just outside of some rough ground marked GUR. The player can play the ball while standing outside the GUR. A bush growing inside the GUR overhangs the white line marking the GUR and interferes with the players swing. Is the player allowed to take free relief?
I am pleased to report on just how busy the Vets Section has been since last months edition of Fore. We now have 124 Members, up 35 since the start of the month.  Too many to name individually but welcome, or welcome back, as the case may be to  the Section.
We played our first inter club friendly match at Hockley on the 19th April. The weather was exceptionally kind to us and our team enjoyed excellent hospitality provided by our opponents as we ate undercover outside on the patio. Although we unfortunately lost the match 4 – 2 each game was very close going down to the last couple of holes. We welcomed three of our new members to the team and hope they enjoyed themselves on their debuts. Our next 3 matches are away  to Waterlooville and Corhampton followed by the return home fixture against Hockley  on the 23rd June.  If you have not put your name down as available for selection then please do. If you are new to the Section and are putting your name down for the first time then, as we have done in previous years, you will be picked to play.
The Wednesday 'Roll Up' has restarted within the current tee booking system. It certainly has proved very popular with large numbers of Vets playing which has now made the prize pot quite attractive. The format changes weekly and if you wish to roll up then book a tee time as normal for your 3 or 4 ball between 8.00am and 2.00pm. Please record your participation in the log book in the Starters Hut and leave your £2 in the cash box. On completion of your round leave your cards in the box on the Foyer Table. Winners will be notified by email and prize money will now be added to your Bar Card via the Office. This is to ease the workload of Melissa and Lynda and reduce footfall in the Office during the present Covid restrictions.
Entry for the three Vets Knock Out competitions has now closed and the draw has been made. We had an excellent number of entries for each competition and the pairings and the 'play-by' dates for each round by are posted on the Vets Notice Board and have been circulated by email to members of the Section. If you are unsure of who you are playing with and/or against please contact me and I will resend you the details.
Entries for the Captain v Vice Captain 4BBB on the 19th May closed on the 30th April. Again another excellent entry with 44 members keen to take part. We look forward to a fun event, contested in a friendly manner and hopefully, reversing the trend of previous years,  recording a win for the Captains team.
We have received two invitations for entries to Senior Open Competitions at Romsey and at Blackmoor Golf Clubs. While notification of these Competitions is normally sent to the Vets Captain they are, of course, open to all senior golfers. Romsey's Seniors Open is an individual stableford on the 5th July with closing date for entries on 7th June. Blackmoor are hosting their Senior Invitation Open, a stableford pairs competition, on the 30th July with a closing date of 9th July. Please see the Vets Notice Board for more details on how to enter these Open events.
Hopefully you will be aware that one of our members, David Marshall, is seeking to reduce his current handicap from 14.7 down to 10. As an incentive to help him reach this target David is seeking Sponsorship with donations to the Captains Charity. To sponsor David sign up on the noticeboard in the clubhouse and put the donation into his Orange Sponsorship Envelope in the office.  Alternatively you can donate on-line at JustGiving.com and search for David Marshall -David's Golf Handicap Chasedown. If successful think of all the shots he will be giving you!
Gareth Rees
Vets Captain
This time last year we were still in the middle of the first lockdown period, wondering what was going on ? It is interesting to look back at some of the photographs you all sent in and which are posted on the website under 'Covid photos'. Things have certainly moved over the last 12 months both on and off the course – Clubhouse Development approval, new 1st and 12th tees, new starters hut and surrounds plus of course a new Head Professional and increased membership numbers. We certainly can not be accused of standing still during lockdown.
NEW MEMBERS
Welcome to the following new members who have all joined the club during 'lockdown' ; Russell Smart, Robert Tilney, Chris Tully, Peter Williams, Johnny Cantor, Chris Taylor, Chris Smith, Robert Stone, James Banks and Sarah Clark (7 day) , Gerard Skinner (intermediate), William Howard  and Alfie Bougard (Student)
We hope that your time at the club will be a long and enjoyable one for all of you.
CLUBHOUSE/ BAR OPENING TIMES –
Outside table service will be available for drinks /coffee from the bar. Please be patient whist we take and prepare your orders. During busy periods we are increasing our staffing levels but there is a limit to how fast we can pour drinks. Incidentally the Peroni pump is the slowest!
A range of pre-packaged hot and cold sandwiches are available for purchase.
The bar will now be open from 11.00am – 7.30pm (Clubhouse will close at 7.45pm). Opening times will be continually reviewed.
Members are reminded NOT TO MOVE tables around the patio or grass area – they are placed specifically to ensure compliance to social distancing. Maximum group size must be 6 people at the moment. Covid compliance checks have been reported in the area – please do not put your club at risk of breaking the regulations.
FACEBOOK – check out our Facebook page
https://www.facebook.com/alresfordgolfclub
Make sure you 'like' our Facebook page and you will link to it and get the regular pictures and updates on what's happening ! Share with your friends to help us boost our online and social media profiles
Follow us at https://www.instagram.com/alresford_golf_club/
COMPETITIONS & CASUAL PLAY
As we begin along the pathway to a more normal level of play – you will note that knockout competitions have resumed. This will mean that on occasions there will be 2 balls playing the course. Whilst we would encourage any 2 ball knockout match to try to avoid the main busy periods (4 balls), it is recognised that many members are restricted as to when they can play their golf. Therefore all members are reminded that the etiquette is to allow any faster group to play through, whether or not you have lost distance on the group in front. Please be aware of what is happening around you on the course and treat each other as you would wish to be treated yourself.
DRIVING RANGE
The driving range will close each Wednesday evening at 7.30pm (last balls dispensed at 7.00pm). This is to allow a full ball collection in preparation for grass cutting early Thursday morning before opening. This will help us ensure we do not damage range balls with the mowers and so reduce the number of balls available. Thank you for your understanding. The practice areas are available for use at any time.
HISTORY BOOKS
Have you finished all your box sets, read all your holiday books  and now looking for something to occupy your time?
Did you know that we have copies of the History of Alresford Golf Club available for purchase from the Office at a cost of £10.
This is a fascinating insight into how the club was established and its transition from 9 hole course to the 18 hole course we have today. There are stories and memories from members past and present as well as photos.  It's a great coffee table book!
CLUB ARCHIVE – Working Group
We are fortunate to have retained (hoarded) a huge amount of historical and photographic material about the club over the years. Recent clearance of roof spaces during lockdown have revealed even more boxes containing some gems about the transition of the club from 1980's and 1990's into what it is today.
The House Committee would like your help in sorting the archive material  and detailing exactly what we have and will keep as part of the club's history. If you are interested in joining this 'working group' please contact me at secretary@alresfordgolf.co.uk
David Maskery
General Manager
Dates for your Diary over the next 6 months
6th June – Captains' Drive In (Part of Captain's Charity Day)
This is your chance to get to know the current captains better. Under the watchful gaze of Les Thorne, a few dark secrets may emerge! Captains will then be asked to carry out their traditional tee shot and you will have the opportunity to make a guess where the balls end up.
19th June – Dawn Patrol (For those early risers!)
This is a competition where we play for the renowned Druid's Cup and includes prizes
The entry fee entitles you to provisions that will sustain you for your early start (05:30- 7:00). Pre Covid we were able to offer a full English Breakfast. If you've not managed to play in this event before, it is great fun once the shock of the early start has worn off. It really is a lovely time to play golf and you get to witness all the wildlife on the course!
30th August- Par 3 Competition (Some exciting changes will be made to last year's holes which are shown here).
You will have seen and enjoyed the Par 3 Tournament at the Masters. The main course will be set up with 18 x Par 3 holes. Included last year within the course were three of golf's most iconic Par 3 holes:Tee times should be booked in advance as normal, all play must be from the allocated Par 3 tees on the day – the regular tees are not available for play on the day.
4th September – Soultown
For a fantastic night of Soul & Motown, look no further than SOULTOWN. VJK & Glenny have been performing for many years now and have a wealth of experience behind them. VJK performed as part of the legendary Soul & Motown group The Gillettes and brings his love of Soul and Motown music to Soultown in every performance.
Their repertoire consists of songs such as Red Light Spells Danger, Get Ready, Higher & Higher, Love Train, and More Than a Number. Their slick choreography, powerful voices and the personalities to really grab an audience mean that this show has led these seasoned performers all over the UK & abroad.
Mike Battisson
Chair of the Social Committee
TEAM GOLF 2021 – TG'21
We are now up and nearly running, or should I say golfing, for the much anticipated start of TG'21 on the 20th of May, so thank you to all those members who have entered so far.
Good news is that we are FULL with 10 teams already committed to playing and it's good to see six NEW MEMBERS names on the available list, so thank you to them too.
We do hope you all will ENJOY this opportunity to meet other members and generally socialize particularly over supper afterwards, once it is available again.
Regarding JUNIORS in the teams, we would like to hear from any of you with a competitive handicap as we have a few vacancies. It is a great chance to experience playing with adults and it is just a minimum of two evenings. PARENTS, please reply to the Secretary's email to confirm your child's availability!
For those who already signed up for a team, please pay the £10 entry fee to your CAPTAIN by the 10th of May, and if it is by cheque please make it payable to 'AGC Social Committee Account'. Would Captains then kindly hand in these fees to the General Manager by the 17th of May – thank you.
We look forward to seeing some of you on the 20th of May, and please note Championship evening is on the 22nd of July when everyone plays.
Any queries contact – John White, Organiser on 01962 732283 or email john86white@outlook.com
Saturday 4TH SEPTEMBER 2021
Watch out for ticket information & details
A practise putting drill used by many Tour Professionals worldwide is hitting putts down a chalk line. Find a nice straight flat putt of about 10 feet in length and by using a chalk line you can get a line going straight into the center of the hole.
Hit putts of various lengths 2 feet, 4 feet, and 6 feet and so on, concentrating of just rolling the ball straight down the chalk line.
It will also make you very aware of the shape of your putting stroke and if you have a tendency to swing the putter to the outside on the way back you can use the chalk line to correct this and you will soon learn to feel the correct path. If you are struggling, sign up for a lesson tailored to your specific problem.
Mark Wood
Professional
In the first 25 days of April we have had 18 night frosts and no recorded rainfall. As I write that might be about to change but we have an awful lot of catching up to do.
Our irrigation system doesn't include the fairways and they have now started to crack, you will recall some courses previously lost their fairways in a drought but we were more fortunate. Normally we would irrigate at night but it has been so cold that daytime irrigation has been necessary such that we have already used 30% of our borehole allocation.
The biggest problem is the soil temperature is not rising enough during the day to encourage grass growth. The greens are being seeded, plugged and fed with a nutrient programme every fortnight along with a wetting agent to help retain the moisture provided. Yet little is happening in the way of recovery as the soil temperature is still too low. Likewise we need the fairways to grow so that the bare patches can be eliminated.
Keep in mind we have three different constructions of green and they all have different grass types and therefore requirements. On the plus side our six professional green keepers know them well and can therefore manage them. So don't be fooled by all this sunshine, as far as the grass and the trees are concerned it's still winter!
As promised the new tees are now open. From a Greens point of view the increased width and length provide a better ability to spread the wear. It is for the Match Committee to decide if this length is added to the card but keep in mind changes impact on signage etc.
At the next Greens Committee Meeting we will be discussing which development projects we propose for winter 21/22. However having had a busy time of it during lockdown we will probably be relatively conservative whilst keeping to the 10 year plan and considering what Hawtree suggested.
Most of the swales are now at apron grass height having top dressed some of them to achieve better contours for the mowers. This takes slightly more work and we had feared they would suffer especially at the bottom of each swale. However so far they appear to be holding up well.
Our newly planted saplings are having to be hand watered in these dry conditions. Where trees were taken out and their stumps ground in general the seed has germinated but again they need rainfall. On the right hand side of the 17th fairway are two pine trees and one of them looks very poorly. We "nearly" took it out last winter but will be monitoring it this summer in the hope it recovers. As the trees finally come into leaf the Ash trees in particular will be monitored to identify those that have signs of dieback.
Having played late afternoon this week I was "disappointed" to see footprints in the bunkers. I can only appeal to all members to rake the bunker properly and ideally rake after people who haven't. Perhaps it's like pitch marks, sometimes we can't find our own so just repair any that you see. Likewise if you see the bunker surface is in need a bit of a rake and you have time then please do it for the sake of the person behind you who is putting together a really good card.
Meanwhile the Greenies are raking the bunkers every morning and removing as many stones as possible which has been identified as a bit of an issue.
The Rooks appear to be on holiday from turf lifting but we really don't trust them. We have an oil extract to trial in the worst area's that will deal with both Chafers and Leathers (the food source). Early days but we are delighted to see some Starlings on the course as they also eat them but in a more surgical way. We also might have a Buzzard taking up residence on the course but it's early days yet.
Wild flower seeds have been sown beyond the 12th green again so we are hopeful of another splash of colour.
Bob Moore
Chair, Greens Committee
Answer.
Yes. See definition for Ground Under Repair
"Any part of the course the Committee defines to be ground under repair (whether by marking it or otherwise). Any defined ground under repair includes both:
All ground inside the edge of the defined area, and
Any grass, bush, tree or other growing or attached natural object rooted in the defined area, including any part of those objects that extends up above the ground outside the edge of the defined area, but not any part (such as a tree root) that is attached to or below the ground outside the edge of the defined area."
Note; A player cannot declare an Area GUR unless marked by the committee, but there are exceptions for conditions that can be declared GUR by the player, See Rules of Golf Definitions for the full list.
If you would like to find out more about the rules, there is a wonderful rules section on the R&A website www.randa.org  where you can also find these exceptions. Just download the R&A app (Rules of Golf) from the app store. 
The winners of the 100 Club prize draw for May 2021 were:
£100    Elaine Spreadbury
£50      Brian Young
£32      Rita Robinson
£32      Tineke Ribbink
£32      Carol Clark
£32      Cynthia Mariner
Congratulations to our winners this month and the ladies have scooped most of the prizes. Next month's draw will take place during week beginning 24 May so look out for the results on the Secretary's board in the entrance hall.
The objective of the 100 Club is to raise funds for projects and items requiring capital expenditure that will enhance the Golf Course and/or the Clubhouse.  These would generally be considered 'extras' and may prove difficult within existing budgets.  The 100 Club was started in 1987 to raise funds towards the Centenary celebrations of the golf club in 1990 but due to its popularity has continued to raise funds for items such as the patio furniture and the information board and clock on the 1st tee.  The new Starters Hut would not have been possible without support from the 100 Club so an excellent example of what can be achieved.
If you too would like to have the opportunity to contribute towards future enhancements to our club facilities and have the chance of winning a cash prize each month then how about making 2021 the year to join the 100 Club.
You can win one of six cash prizes in the monthly draw: £100, £50 and four at £32.
Each share cost £1 per month paid for by monthly standing order and there is no limit to the number you can purchase.  Members generally have between 1 and 10 shares with 5 being the most common holding.
For further information about the 100 Club and its history please refer to this section in previous editions of FORE Info.  Application forms can be obtained from the Secretary's office or from me –  Pat Wallis phone 01420 564417 or email peterpat51@outlook.com
Pat Wallis
For Sale: Special Offer
'Eventer 4' golf buggy made by Patterson Products Ltd. of Chertsey.
One year old, sparingly used, transferable warranty for buggy and lithium battery.
£ 2,700.  2250 ono.
Please contact Victoria Mackintosh      01962 734182
If you have something golfing to offer other members why not use Fore Info.  We ask for a donation to the Captains Charity. Please contact the editor by email at newsletter@alresfordgolf.co.uk
Funny Endings: Joke and Cartoon of the Month
We are looking for golf related, clean, seriously funny humour suitable for all members. Send your contributions to the Editor at newsletter@alresfordgolf.co.uk
If we use your joke or cartoon, I will buy you a drink in the bar when it reopens.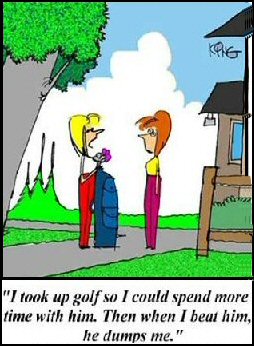 A man and his wife were playing golf with another couple at their club. They came to a par 4, dogleg left. The man pulled his drive to the left and left it behind a barn. His friend said, "If you open the front door and the back door of the barn, you'll have a clear shot to the green." So they opened the doors and the man took his shot. It rattled through the rafters of the barn, shot out through a window, hit his wife on the head and killed her!
It was ten years before the man could get the courage to play the course again. Sure enough, he got to the same hole, pulled his drive again and ended up behind the same barn. The man he was playing with this time said, "If you open the front door and the back door of the barn, you'll have a clear shot to the green." The man said, "I don't think so. The last time I tried that, something terrible happened." "What was that?" asked his friend. The man replied, "I got a seven!"
Quote of the Month
"The only problem with golf is that the slow people are always in front of you and the fast people always end up behind you.
Editor: David Marshall
DISCLAIMER
The Editorial Team take no responsibility for incorrect information received from Contributors.